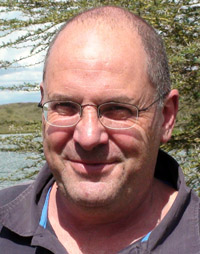 Välkommen till ett entusiasmerande  seminarium med Jeremy Sherr, ett seminarium som kommer att bli oförglömligt!
Jeremy Sherr är en intressant seminariehållare som delar med sig av all sin breda kunskap. Just nu bedriver han ett aids-projekt i Tanzania i Afrika, som han kommer att berätta mer om under seminariet!
I anslutning till seminariet kommer du att få information om organisationen HOMEOPATER UTAN GRÄNSER. Vi har som mål att starta en Sverige avdelning under seminariet, som du är välkommen att delta i.
Jeremy Sherr har under många år drivit utbildningar runt om i världen och han är känd för att ha gjort många homeopatiska prövningar. Jeremy Sherr kommer att berätta om några av dessa läkemedel tillsammans med patientfall.
Tillsammans med Jeremy kommer vi att under seminariet att påbörja en prövning av ett homeopatiskt läkemedel. När du har anmält dig till seminariet kommer du i god tid att få information om hur prövningar går till och vilka olika delar som ingår i en prövning. Du som är intresserad av att delta i prövningen kan välja mellan att pröva en homeopatisk substans eller att vara handledare. Det ger dig en fantastisk möjlighet att få insikt i hur vår homeopatiska materia medica har utvecklats och hur den utvecklas genom ditt deltagande.
Du kan naturligtvis delta under seminariet utan att delta i prövningen.
Språk: engelska
Datum:     11-13 november 2011
Tid:          Fredag 10.00-19.00,  Lördag kl. 9.30-18.00, Söndag kl. 9.30-16.00
Pris:         2495 kr inkl. moms
Plats:       ArcanumSkolans lokaler i Brastad.
Boende:    Det finns gott om boendemöjligheter i olika prislägen.
Närmast ligger mycket trevliga Villa Bro, som ligger ca 5 min från skolan, Till exklusiva Vann Spa med spa-avdelning är det ca 15 minuters bilfärd, samma avstånd är det till Lysekil där du hittar fler boendealternativ.
Klicka på länkarna nedan för att komma till de olika alternativen.
www.villabro.se, www.vann.se, www.hotellysekil.se,
www.stadshotellet-lysekil.se, http://www.strandflickorna.se/
www.vastsverige.com/sv/lysekil/bo
Du anmäler dig genom att ringa eller maila till skolan!
Du är hjärtligt välkommen till detta speciella tillfälle!
ArcanumSkolan, Birgitta Williams och Mats Ragnestad
---
FAKTA OM JEREMY
Jeremy was born in South Africa and grew up in Israel. He began his studies at the College of Homœopathy, London, in 1980 and completed a degree simultaneously in Traditional Chinese Medicine. Though he practices classical homœopathy exclusively, his knowledge of Chinese Medicine shines through his homœopathic thinking.
Jeremy was the first to re-develop the science and art of provings after a century of near silence. In 1982 he conducted his first proving of Scorpion, and has since completed 23 Hahnemannian provings, including Hydrogen, Chocolate, Diamond, Salmon and Germanium. These remedies are now well established in our repertories and materia medicas, and are being used successfully all over the world. Jeremy's work "The Dynamics and Methodology of Homœopathic Provings" has become the accepted guideline for provings, and has been translated into French, German, Italian and Russian. His latest book, "Dynamic Materia Medica – Syphilis" is an innovative presentation of his unique ideas on philosophy and materia medica that has received excellent reviews worldwide.
Jeremy began teaching while still in college. He taught in most British schools, and began the Dynamis School in 1985. His school is the longest running post-graduate course in the UK. He has taught the Dynamis curriculum throughout Europe and North America, and has lectured in Australia, New Zealand, South Africa, India and China. He maintains a busy practice in Malvern, New York and Tel Aviv.
Jeremy is acknowledged by the homœopathic community as a brilliant and creative thinker who is well grounded in the philosophy and writings of Hahnemann. His lectures are an inspiring blend of classical homœopathy and original thought, delivered with vitality and humour. His practical teachings are live cases with long-term follow up. As a homœopathic practitioner, Jeremy is known for his unprejudiced clarity and profound insight.
He was awarded a fellowship from the Society of Homeopaths in 1991 and a Ph.D. from Medicina Alternativa. He is a Member of the North American Society of Homeopaths, and is an honorary professor of Yunan Medical College, Kunming, China.